If your location was Hollywood and Vine, you'd put it in your name too. The Redbury, which appeared in the blink of an eye on this famous intersection, is a welcome blast of personality in a hotel scene that was in danger of lapsing into sameness.
It's hard to believe there could ever be an "LA look," given the breadth and diversity of this SoCal megalopolis, but the Redbury's interiors are notable first of all for how successfully they break the Hollywood boutique-hotel mold. Minimalist modernism seems miles away here. And like any style worth its salt, the Redbury's look is difficult to capture in a phrase — unless you find that something like "swinging-London boho-glam Persian-Oriental Zeppelin-groupie gay-uncle antiques-dealer" rolls effortlessly off the tongue.
The Redbury's appeal, though, is more than skin deep. It's an all-suite property, or all-flat, if you buy into their terminology. And why not — they're all in the neighborhood of a thousand square feet, with private patios or balconies, gas ranges in the kitchens, chic mosaic-tile wet rooms, and in-room laundry machines, plus huge LCD televisions and turntables with vinyl provided.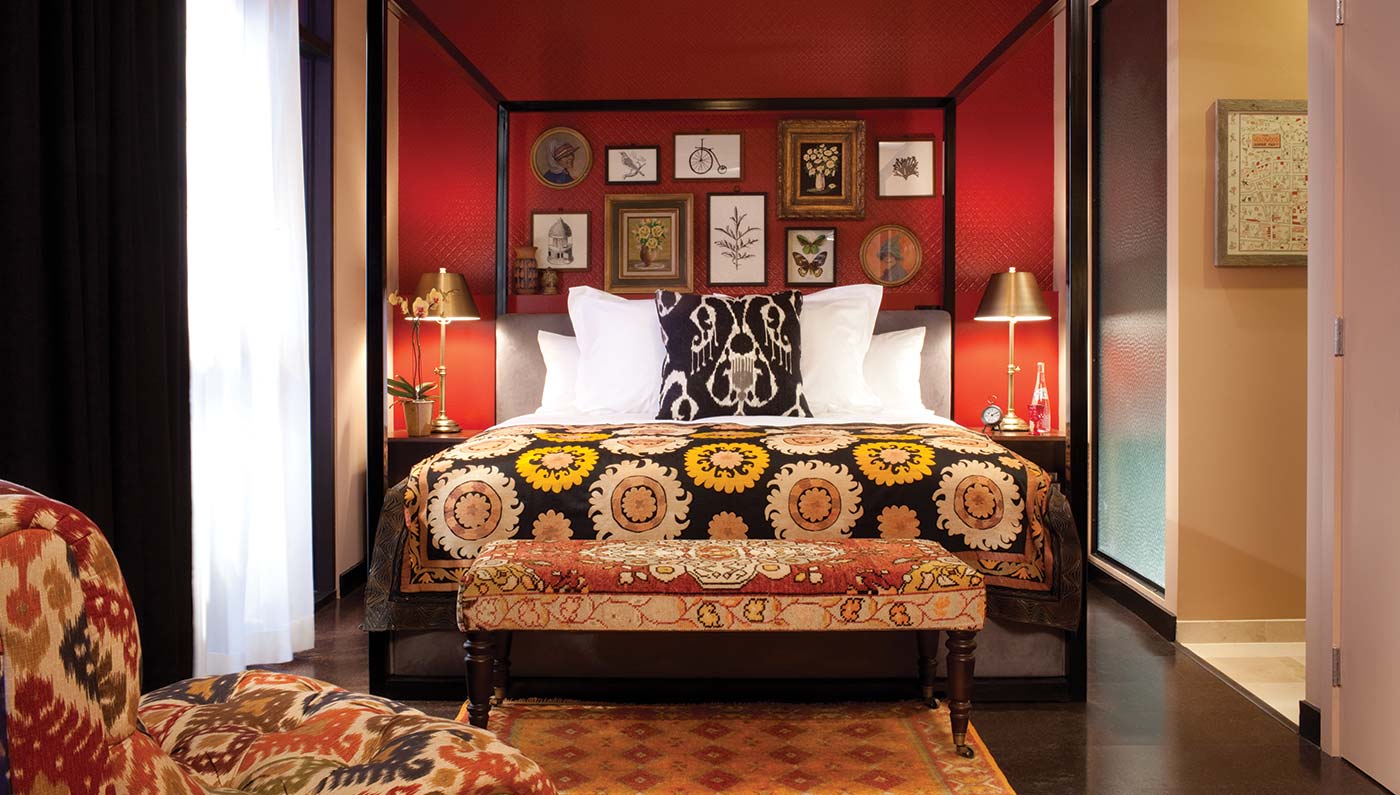 Of course the lounge spaces are scarcely less stylish. Cleo, the restaurant, serves small plates from a number of Mediterranean traditions, from tagine to moussaka, and The Glade is the outdoor lounge, with its own fair share of Moorish inspiration. Comfort, sociability, and no shortage of personality — what more could one ask from a Hollywood hotel?
How to get there:
The hotel is about a 35-minute drive from Los Angeles International Airport, though the trip can take over an hour in heavy traffic. Private parking is available on site for $38 per day.
57 Rooms
Style: Modern Design
Atmosphere: Happening
Address: 1717 Vine St, Los Angeles, USA
Neighborhood: Hollywood
FROM $299
Check availability as rates may vary for dates. Best rate guaranteed.